Legal
Details
Privacy Policy for http://stencilletters.org

The privacy of our visitors to http://stencilletters.org is important to us.

At http://stencilletters.org, we recognize that privacy of your personal information is important. Here is information on what types of personal information we receive and collect when you use and visit http://stencilletters.org, and how we safeguard your information. We never sell your personal information to third parties.

Log Files
As with most other websites, we collect and use the data contained in log files. The information in the log files include your IP (internet protocol) address, your ISP (internet service provider, such as AOL or Shaw Cable), the browser you used to visit our site (such as Internet Explorer or Firefox), the time you visited our site and which pages you visited throughout our site.

Cookies and Web Beacons
We do use cookies to store information, such as your personal preferences when you visit our site. This could include only showing you a popup once in your visit, or the ability to login to some of our features, such as forums.

We also use third party advertisements on http://stencilletters.org to support our site. Some of these advertisers may use technology such as cookies and web beacons when they advertise on our site, which will also send these advertisers (such as Google through the Google AdSense program) information including your IP address, your ISP , the browser you used to visit our site, and in some cases, whether you have Flash installed. This is generally used for geotargeting purposes (showing New York real estate ads to someone in New York, for example) or showing certain ads based on specific sites visited (such as showing cooking ads to someone who frequents cooking sites).

DoubleClick DART cookies
We also may use DART cookies for ad serving through Google's DoubleClick, which places a cookie on your computer when you are browsing the web and visit a site using DoubleClick advertising (including some Google AdSense advertisements). This cookie is used to serve ads specific to you and your interests ("interest based targeting"). The ads served will be targeted based on your previous browsing history (For example, if you have been viewing sites about visiting Las Vegas, you may see Las Vegas hotel advertisements when viewing a non-related site, such as on a site about hockey). DART uses "non personally identifiable information". It does NOT track personal information about you, such as your name, email address, physical address, telephone number, social security numbers, bank account numbers or credit card numbers. You may opt out of the use of the DoubleClick cookie for interest-based advertising by visiting the ads preference manager. (Alternatively, you can opt out of a third-party vendor's use of cookies for interest based advertising by visiting aboutads.info.)

You can choose to disable or selectively turn off our cookies or third-party cookies in your browser settings, or by managing preferences in programs such as Norton Internet Security. However, this can affect how you are able to interact with our site as well as other websites. This could include the inability to login to services or programs, such as logging into forums or accounts.

Deleting cookies does not mean you are permanently opted out of any advertising program. Unless you have settings that disallow cookies, the next time you visit a site running the advertisements, a new cookie will be added.
Details
StencilLetters Online | Professional Lettering Stencils for Everyone!
Contact us
Please contact us with questions or comments:
Did you know StencilLetters.Org is the go-to destination for anyone looking to print and cut their alphabet letter and number stencil templates? We've got over 100 typography designs available in multiple sizes and formats, such as PDF and SVG, so you can find the perfect lettering stencil in no time!
And best of all, it's all FREE! We're here to help you start your DIY craft project on a budget.
Whether doing a craft project or trying to make your own signs for business, having access to our free stencils will save you money and time. Print out our free stencil templates on paper or cardstock, cut them out with scissors or an X-Acto knife, and get going with your project!
Need a custom-made printable stencil in high-resolution 300 DPI?
Whatever letter or word, or phrase you need, we can create a high-resolution printable stencil template for you with our massive selection of fantastic typography designs.
Please check out all our designs and offerings
Whether you're a crafter looking to do your projects with printable stencils or just someone who needs to label things around the house with paint, we've got something for you. Our stencils are perfect for any project requiring letters or numbers — you can use them to decorate your walls, make signs, paint your drawers and cabinets, or anything else that needs labeling!
FAQ
How long will it take to receive my printable stencil?
All custom template orders will be sent to your email address within 24 hours.
What methods of payment do you accept?
We accept payment via our secure payment processor PayPal. You can pay for your stencils with funds in your PayPal account or any major credit card such as Visa or Mastercard.
More information on Custom made stencils!
Our custom made stencil products allow you to enter your own words, names, phrases, quotes and slogans including numbers from our huge range of letter design options. You can add letters and numbers. Feel free to add any punctuation as well. Simply let us know your desired size in Inches and we will prepare and send your high resolution 300 DPI printable file ready for printing and cutting.
All our product sizes are in Inches.
For uppercase and lowercase alphabet letter stencil sets (A-Z ) and Number sets ( 0 to 9 ).
Letter and number stencil sets are measured at the height of the tallest letter.
Uppercase letter height is measured from the baseline ( bottom ) and the cap-height ( top ) of the highest letter in each set. All other letters will be adjusted accordingly.
Uppercase set example:

Lowercase letter height is measured from the baseline ( bottom ) and the cap-height ( top ) of the highest letter in the set. All other letters will be adjusted accordingly.
Lowercase set example:

Number height is measured from the baseline ( bottom ) and the cap-height ( top ) of the highest number in the set. All other numbers will be adjusted accordingly just like the letters above. Most 0 to 9 number sets are of equal height.
For Custom Stencils, measurement is taken from the height and width of the ordered stencil size.
Example: A 2" X 6" size order ( 2" height & 6" width )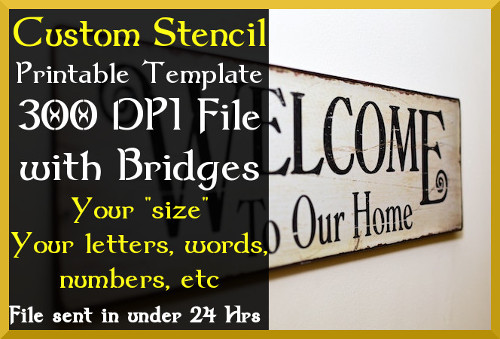 Your custom text will be designed to nearly the edges of the stencil with a little spacing around the edges and centered. If you prefer a left alignment or right alignment, please let us know in the order note field when you place your order.
All our custom printable stencils are sent in 300 DPI resolution and all characters have stencil bridges.
Thank you so much!
Details
Contact us
If you have any questions or requests, please feel free to contact us here. We'll get right back to you soon!
Printable Template Custom Order
Hi there!
Thanks for purchasing our digital stencils! We're so excited to have you and happy to get started on your custom stencil order.
Your printable template will be sent as a high-resolution file in 300 DPI PNG format with transparent background.
We'll send your purchase within 24 hours of your order to your email address. Thank you very much!
Terms of Use for stencilletters.Org
Digital Template Purchase Information
Please read our
FAQ
if you need further information, or please contact us through the form above. As our custom printable stencils are made to order. Please check your size requirements and specifications above before placing your order.
Please be sure to include the URL of this site/page and detailed information about your request, suggestion or complaint so we can attend to it accordingly.
About the Letters and Fonts
The fonts presented on this website are their authors' property, and are either freeware, shareware, demo versions or public domain. Please look in the readme-files in the zips or check the indicated author's website for details, and contact him/her if in doubt. If no author/licence is indicated that's because we don't have information, that doesn't mean it's free.
Prohibited Use
You agree that you will not frame the Web site or the Content or any part thereof on any commercial or non-commercial internet Web site. No rights or licences are granted to you regarding the Web site, the Content or the Services, except the limited right to use the Web site, the Content and the Services in accordance with these Terms and Conditions. Any exploitation of the Web site, the Content or the Services including, without limitation, reverse engineering, decompilation and disassembly is strictly prohibited.
All content from this website should be intended for your personal and private / home and classroom use.
You may not copy, modify or redistribute any part of this site and it's contents in any form.
Thank you again for visiting our website!. We hope that you will enjoy browsing our site and you'll find what you are looking for. A resource that everyone can enjoy for free! Our site offers no paid membership areas!
Privacy Policy
Please read our Privacy Policy through the Privacy Policy link on the menu which clearly explains what types of personal information we receive and collect when you visit and use this website
Please Enjoy the site and Thank you for your visit!