StencilLetters Online | Professional Lettering Stencils for Everyone!
Please Email us with questions or comments:
We're open and ship orders through 8am to 6pm Weekdays ( excluding public holidays ). Please see shipping information below. Contact Us
About us:
StencilLetters Online aims to bring you the biggest selection of lettering stencils and numbers for your projects. We're always adding unique stencil letter sets increasing our product selection range for you! We offer uppercase and lowercase alphabet letters, numbers and custom order stencils ( Make your own ).
Our goal is to offer folks around the world awesome letter stencils to use!!
Questions and Information about our stencils
How to I place my order?
Simply browse to any of our product pages.
Alphabet letter stencils | Number stencils | Custom make your own stencils
Choose the stencil design which you like. Click on the image or link below to access the product page. Choose your desired stencil size and add to cart.
For "Custom make your own stencils" products. Please enter your custom text in the text boxes provided before adding to cart.
You can add as many products as you like before checking out.
Shipping Information
How much are shipping charges?
Shipping is FREE worldwide! Thank you for your business.
How long will it take to receive my item?
All purchases are shipped within 5-10 business days on order and payment confirmation. Please allow up to 14-28 days for delivery worldwide of your stencils from Japan.
What methods of payment do you accept?
We accept payment via our secure payment processor PayPal. You can pay for your stencils with funds in your PayPal account or any major credit card such as Visa or Mastercard.
What currency are the prices in?
Our stencil products are priced in US dollars.

What material are the stencils made of?
We use quality stencil material for all our stencils made from durable PVC plastic. It's a quality film for stencils and is sturdy and strong. Durable and reusable many times over. Our stencils are cut on 125 micron material thickness.
Stencil Sample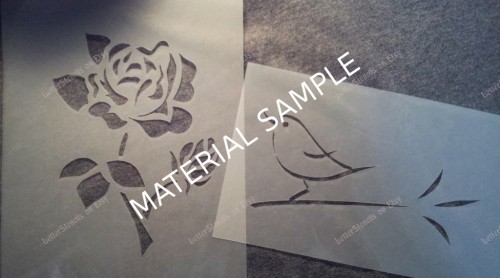 What can I use my stencil for?
Our stencils are suitable for all types of light works and projects for home and business. A few examples of what you can use our stencils for include:
Room wall decor, Doors, signs and banners, crafts and scrap-booking projects, glass etching, fabrics and t-shirts, airbrushing and so much more similar types of projects.
Please note these stencils are not suitable for heavy industrial type use such as Parking lot numbers and heavy sandblasting, etc
Give me more information on Custom made stencils?
Our custom made stencil products allow you to enter your own words, names, phrases, quotes and slogans including numbers from our huge range of letter design options. You can also add a 2nd line of text which is optional. You can add letters and numbers. Feel free to add any punctuation as well.
Once you have placed your order, we will quickly cut and ship your stencil.
How are the stencil letters measured?
All our product sizes are in Inches.
For uppercase & lowercase alphabet letter stencil sets (A-Z ) and Number sets ( 0 to 9 ).
Letter & number stencil sets are measured at the height of the tallest letter.
Uppercase letter height is measured from the baseline ( bottom ) and the cap-height ( top ) of the highest letter in each set. All other letters will be adjusted accordingly.
Uppercase set example:

Lowercase letter height is measured from the baseline ( bottom ) and the cap-height ( top ) of the highest letter in the set. All other letters will be adjusted accordingly.
Lowercase set example:

Number height is measured from the baseline ( bottom ) and the cap-height ( top ) of the highest number in the set. All other numbers will be adjusted accordingly just like the letters above. Most 0 to 9 number sets are of equal height.
For Custom Stencils, measurement is taken from the height and width of the ordered stencil size.
Example: A 2" X 6" size order ( 2" height & 6" width )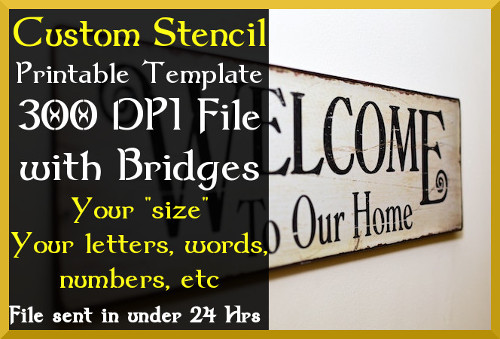 Your custom text will be designed to nearly the edges of the stencil with a little spacing around the edges and centered. If you prefer a left alignment or right alignment, please let us know by email when you place your order.
Cleaning your stencils
On light jobs stencils usually remain clean and reusable as long as there is no heavy build up which would block the spaces / holes of the letters and numbers.
Most water based paints can easily be washed off the stencils with a bit of detergent and warm water.
Do you accept returns / replacements ?
As out stencils are made to order. We can only accept returns or make exchanges if we have made an error with your order. Please check your size requirements and size specifications above before placing your order. Return items would have to be shipped back for inspection before a refund or replacement is provided. Items must be unused.